Your merchandising decisions make or break sales – here's what one of our Data Scientists, Saikat Bagchi, says about how you can use data to ensure you're making the right ones.
Merchandising decisions are equally important for both physical and digital retail, but the challenge manifests itself in slightly different ways – and that means your approach needs to change, too.
Think about it this way: in both cases, you have a 'shop floor'. One is the physical store, the other is your website, and both require careful planning to ensure you're getting the best engagement and sales from your customers.
Successful merchandising – from what you buy to how you arrange it – relies on knowing who your customers are, what they want, and how best to put those products in front of them. Often, you need to anticipate these factors even before your customers know themselves.
There are a number of traditional ways to understand what shoppers are looking for when they come to your store – and you're likely already doing most of them. But with up to 95% of decision-making driven by the subconscious mind, surveys and historical data are only going to get you so far. To really keep up with customer demand you'll need deeper, closer-to-real-time analytics that allow you to adjust your merchandising strategy quickly and effectively.
Here are some ideas for data-driven ways to optimise merchandising – in-store and online – focusing on three key success areas.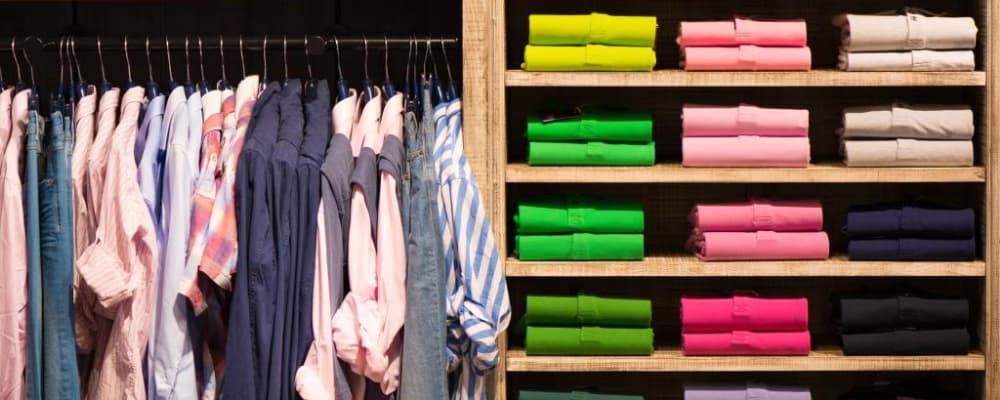 The art and science of merchandising
Getting the right product mix
There are always a lot of questions to answer when you're adding new products to your offering. For example, is this a product that fits your current customer base? If not, can you market it effectively to bring in new potential buyers?
These questions can be difficult to answer without granular insights into what works and what doesn't for your stores. Sales and returns data, information from loyalty schemes, and engagement with promotions are all traditional metrics that can influence merchandising. But there's other data you should consider, too. Take your SKU hurdles, for example. Rethinking how you use these metrics is vital, especially if you're experimenting with bringing in more niche products like handmade items or gluten-free foods. If you're judging your offering by simplistic measures of success – like sales volume – you might miss out on key insights, such as whether a product could bring in a new customer, or encourage loyalty in another. For this, it would be important to assess each SKU on the basis of not only incremental sales and improved margins, but also the potential to bring in new customers through direct and induced effects. The incremental sales should also be seen in their true sense by accounting for the cannibalisation it may be causing for other SKUs/categories, or perhaps assistance for incremental in other SKUs/categories in the form of halo effects.
Getting the right product mix can really make a difference for your profits. With a data-driven product mix, you won't have to sacrifice sales of healthy selling products, or take a hit on margins to clear out items that aren't selling.
Creating the ideal store layout and displays
With all the effort you put into identifying the right product mix, you need to ensure you're presenting your offering in the right way to make that work worthwhile.
In physical stores, customers tend to shop counter-clockwise – which makes the space to the right of your entryway prime real estate. Logically, that means it's an ideal place for high-profit items – but it's also a great opportunity to test out new items or clear out overstocked products. Data-driven insights into optimal usage of secondary space can really bring in those additional sales – just ensure that you're monitoring sales from this area carefully, and be ready to swap out your displays rapidly for the best effect.
Through well designed format and space trials, you can run experiments and monitor the impact of each change. In the past, we have successfully assisted retailers in the design of experiments and narrowing down the best suited and best performing initiatives. With many of the retailers we were able to bring in incremental to the amount of thousands of pounds per week, per site. Design of experiments can further help identify synergy impacts of category adjacency and help optimise store layout based on product affinities.
For physical shopping, with advances in video analytics, you can use your in-store CCTV network to link these metrics to the actual demographics of your shoppers – tying them to factors such as age group, gender and shopper preference.
Online, it's all about personalisation: 59% of shoppers think it's easier to find interesting products on a personalised website, and 45% are more likely to shop on a site that offers tailored recommendations. Having these recommendations on your homepage is the obvious play here – but analysing which pages on your site have the highest dwell times and levels of interaction can reveal some unexpected places where a tailored offer could make a big difference. For new visitors, you won't have the background data required to tailor the experience right away. That's where historical data from your other customers comes in handy – but you need to have real-time monitoring capabilities in place so you can start personalising the experience as soon as a first-time visitor arrives at your site. 
Balancing convenience and experience
Innovation needs to be of upmost importance for retailers to find the balance between convenience and experience, or both at best. Data-driven experimentation can accelerate the use of data and advanced analytics to improve store performance, customer experience and also to drive additional revenue by optimised utilisation of the real estate. A few examples from our experience with different retailers from the past include options like having in-store sushi counters, speciality bakery and dessert shops, ATM installation, onsite pharmacies, and click and collect facilities.
One retailer we were working with wanted to make customer checkout a faster and simpler experience. To achieve that, it was pivotal to optimise the number and configuration of its checkout counters. Starting with the principle that a particular store would have optimum 11 counters, the client wanted to know how many would need to be conventionally manned, versus self-checkout with cash and/or card payment options. Our team applied the experiment on a select few stores, using our Test and Learn methodology. This included data preparation, exploratory analysis and statistical modelling to establish the key factors leading to the optimal mix of manned and self-checkout counters. Using the drivers established, as a scaled up solution, the retailer was able to make evidence-based decisions for all of its 80 stores.
Qualitatively it has been seen that within a store, customer behaviour may influence a retailer's layout decisions. Conventional wisdom says you should put your bestselling products as deep in your store as possible, to encourage shoppers to spend more time on the shop floor – but if your target demographic is looking for convenience, that's likely to put them off your store entirely. On the other hand, as some shoppers are increasingly looking for an 'experience' rather than a straightforward transaction, you might want to look at which parts of your store could be repurposed as cafés, event venues, demo areas or other non-product spaces.
It's a classic cost/benefit question, but will require careful analysis of what you can afford to lose – and what you might gain.
Understanding your retail data
Getting the right products, bundles, pricing models and promotions for your customers are everything in an increasingly competitive and fragmented retail industry. The more your merchandising decisions are based on data, the more likely it is that you'll see success. Digging down into your own retail data can be a complex process – but it's worth it to get the right offering in place to bring in new customers and keep existing shoppers coming back.
The Smart Cube supports retailers with harnessing insights from diverse data sources to take the guesswork out of merchandising decisions and drive sustainable, profitable growth.
If you're interested in learning more, read about our Merchandising Analytics solution, or get in touch with us today.