In this digital intelligence age, procurement data is no longer limited to spend data. Data from multiple sources, both internal and external, is now easily accessible to the procurement team. There is a great opportunity to deploy advanced analytics on this combined data to understand purchasing trends, market dynamics, business stakeholder behaviours and team performance. The resulting insights can be used to underpin future procurement decisions, and drive value for the whole organisation. Read on to find out more, then see how we offer procurement analytics for modern procurement teams.
Procurement analytics opportunities
We find a common problem among our procurement clients is identifying a starting point. This is further complicated by the hype around new technologies such as artificial intelligence (AI), machine learning and automation, and the challenge of where and how they should be implemented. Many companies just want to get on the AI bandwagon, without really understanding why, and without having the necessary data and process building blocks in place.
---
"Start with the problem you want to be solved, then find a technology to solve it. Too often people get carried away with exciting technologies." Hans Melotte, EVP Global Supply Chain, Starbucks
---
Secondly, procurement needs to assess their position on the 'analytics value chain', to get a true picture of where they currently stand. Once this is clear, actions can be taken to move forward based on level of maturity and the business questions to be addressed. We have developed a model to help with this exercise.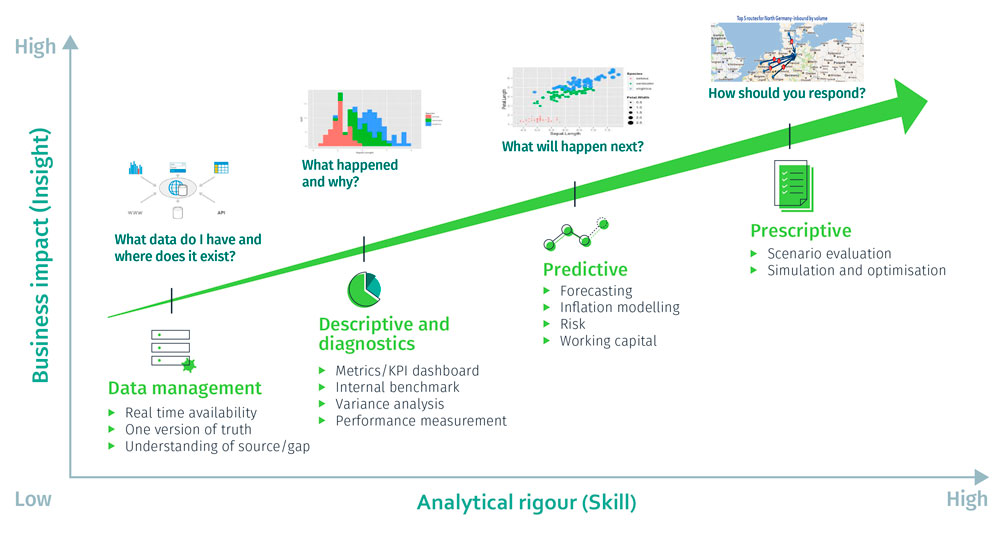 Wherever you might be on the analytics value chain, the next key question is which metrics are most relevant for you to track, measure and improve.
What procurement data to analyse
From our extensive experience of working with procurement functions across all sectors, we have identified a series of typical analytics use cases from procurement data.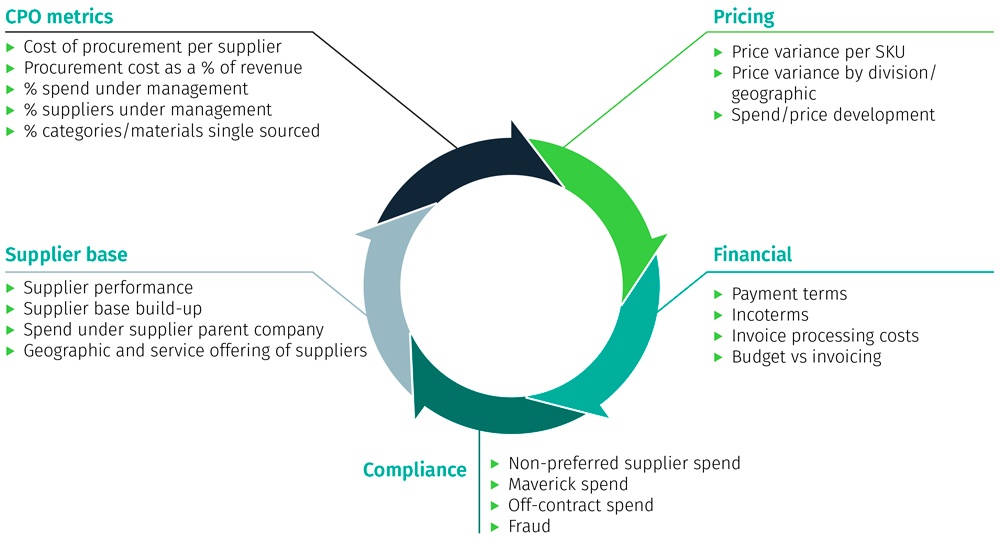 Pricing metrics
To understand whether the organisation is paying different prices for a similar product or service across its divisions and geographies – a common problem since divisions/geographies often don't share data and best practices. The analysis can be conducted at the following levels:

Price variance for an SKU, where the same SKU might be bought at different price points from different suppliers
Price variance by division/geography, where the same SKU might be bought at different price points within different divisions and geographies
Spend/price development, to assess whether an increase in spending for an SKU/category is resulting in a per unit cost reduction

Financial metrics
To understand how working capital can be optimised by using payment terms as a key lever. Another important element is to control spend above the budget by comparing the budget or the PO value with the actual invoicing. Various analyses that can bring insights on this are:

Payment terms visibility and optimisation to release working capital by comparing categories/geographies against external and internal benchmarks
Incoterms can be analysed to identify opportunities to switch to cost-effective incoterms
Invoice processing costs need to be minimal and analysed using a number of transactions per supplier and average invoice value
Budget/PO vs invoicing should be synced to ascertain the difference in budgets/PO vs actual invoices

Compliance metrics
To understand any variances from the defined process and agreed KPIs. Typically, these can't be completely avoided but should be controlled as they always come with a higher price point. Ideal metrics to explore include:

Spend from unapproved and non-preferred suppliers
Maverick spend as a percentage of overall spend
Off-contract and non-PO spend
Fraud detection by analysing factors including spend near approval limits, and large spend without POs

Supplier base metrics
To understand the performance of the existing supplier base and identify opportunities to consolidate further, such as using more global contracts to secure better pricing. Procurement teams should look at the following analyses:

Supplier performance metrics to measure current performance against the SLAs and KPIs agreed in the contract
Supplier base build-up, to understand which geography/division has a high supplier base built up over years, compared to the spend in each geography/division
Spend under supplier parent company, to understand the parent-subsidiary relationship of suppliers and the potential to move to a single contract with the parent entity
Leveraging existing suppliers' geographic reach to secure global competitive rates rather than local contracts and suppliers
Leveraging existing suppliers' product/service offering to cover multiple categories

CPO metrics
To understand the overall procurement performance and efficiency of the procurement team at a CPO or leadership team level:

Cost of procurement per supplier
Procurement cost as a % of revenue
% spend under management
% suppliers under management
% categories/materials single sourced
Driving business value with procurement analytics
Ultimately, procurement is seeking to reduce the organisation's overall cost base and achieve more for less. The power of analytics provides greater visibility for both vendors and buyers, supporting a more collaborative relationship based on a strong understanding of business requirements and marketplace dynamics. Focus on innovation, risk and sustainability can also be improved by information derived from analytics.
Procurement teams today are developing digital roadmaps for the future and looking to leverage multiple data sources. Building analytical capabilities and robust processes to capitalise on this data will become ever more essential for creating actionable insights to inform strategic decision-making.
The Smart Cube helps businesses apply analytics at scale to uncover new opportunities for cost savings and value delivery, proactively mitigate supply risks, and drive continuous innovation. Read more about our Procurement Analytics solution or get in touch.