Here we explore three reasons biopharmas and genomic data analysis companies should keep a keen eye on the liquid biopsy space
The biomedical data analysis company Seven Bridges Genomics announced early in the year that it has entered the liquid biopsy market[1], joining test manufacturers like Agilent Technologies, QIAGEN Bioinformatics, Fabric Genomics and SOPHiA Genetics in this space. These companies are developing supportive tools and tests for conducting analysis of blood samples. Then there are players such as Guardant Health and Biocept which are providing non-invasive tests for cancer diagnostics.
Liquid biopsy is addressing a pressing issue in modern medicine – exploring a better way to diagnose cancer. The technique involves using blood work to identify genetic markers which can confirm the presence of cancer and help in better treatment decision making. It is gaining popularity because unlike tissue biopsy, it is not costly and painful for patients, nor complex and time-consuming for doctors.
Reasons why this market is worth monitoring
We are witnessing increasing interest in liquid biopsy from both genomic data analysis and biopharma companies – keen to understand who are the credible test developers, which are the upcoming start-ups, how is the competition faring. From our work providing market intelligence to help clients add value to their business, we have identified three key trends that companies need to know:
1. Great market potential

According to the US-based liquid biopsy company Biocept, the market of liquid biopsy is expected to reach $22 billion by 2020. Based on the current applications, it can be segmented into four areas:
Profiling: Mutation profiling for cancer diagnostics/biomarker analysis
Monitoring: Monitoring cancer progression at regular intervals and guide treatment decisions
Companion Diagnostics (CDx): Diagnostics coupled with treatments
Screening: Early-stage cancer screening
Currently, most liquid biopsy companies are only doing profiling, but are now also building capabilities to enter the monitoring, CDx, and screening segments.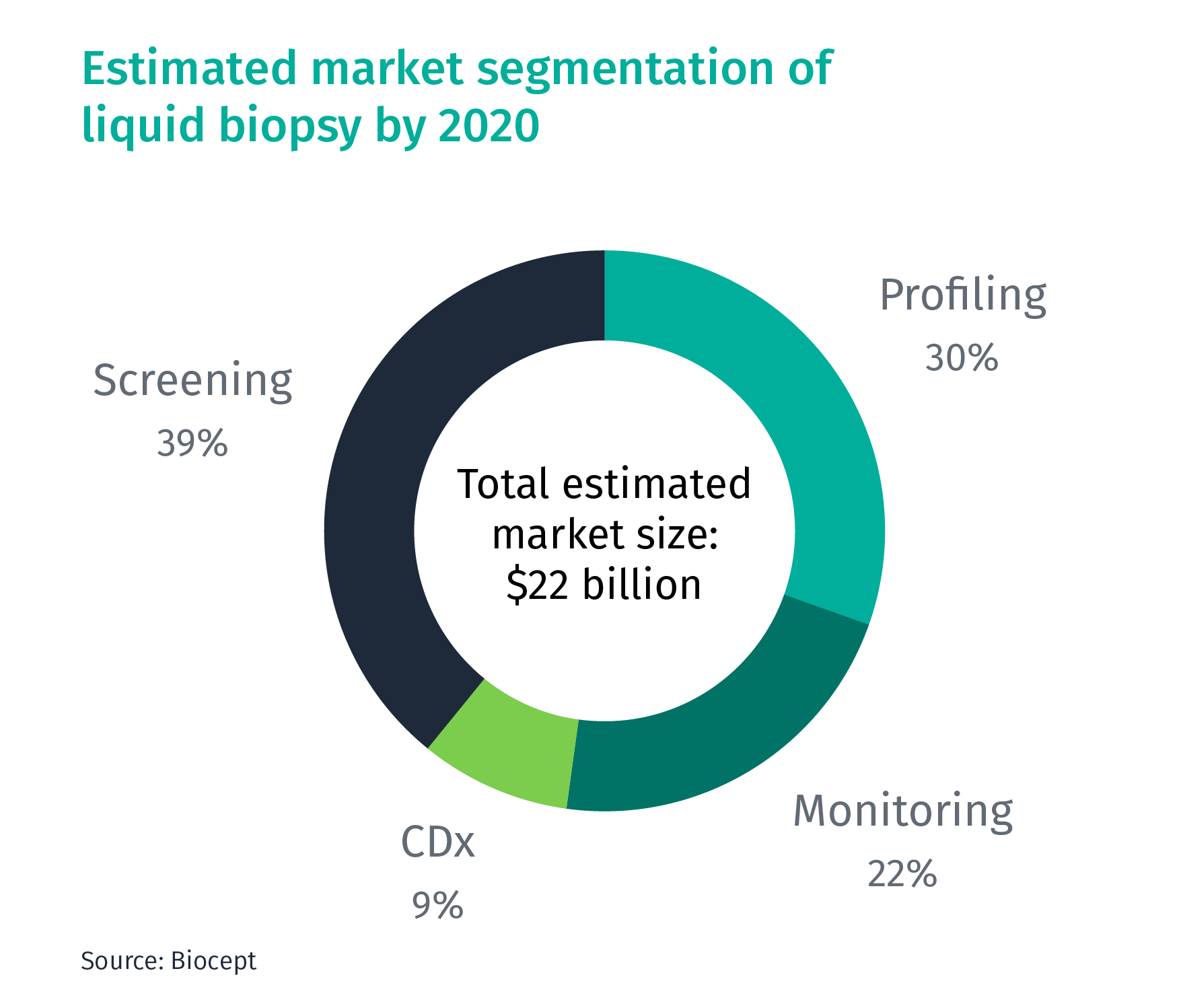 Liquid biopsy is an emerging market. Biopharmas such as AstraZeneca have been using liquid biopsy tests in clinical trials for identifying target patient population (based on the mutation profile). Merck and Five Prime Therapeutics have also started. They are also continuing the development of CDx. On the other hand, genomic data analysis companies are building their capabilities to support these testing procedures. One such company Tempus, has entered into this space with the development of panel-based tests.
In recent times, we have seen an influx of questions from biopharmaceuticals and genomic data analysis companies around existing players, competition and capabilities in this industry. From our studies into this market, we found that over 60 companies are developing liquid biopsy and companion diagnostics tests. Of these companies, 60% are solely focused on developing liquid biopsy tests. This insight into the competitive landscape of the industry can be used to make informed decisions on which segment (CDx/Liquid biopsy) to target and enter, which could help a company establish a stronghold in the opportune regions.
2. Gearing towards consolidation

The liquid biopsy market is fragmented at this stage. Biopharma and genomic data analysis service providers that have entered the space directly or indirectly, are trying to establish a stronghold in the industry, to eventually gain significant market share. Competitive intelligence about the players operating in this segment (such as their clientele), provides them with an opportunity to consolidate their market share. A landscape of the sector – insight on the companies conducting liquid biopsies or the ones planning to try liquid biopsies – can help genomic data analysis providers with lead generation. The Smart Cube helped one such client to identify potential target audience, current and future penetration scenarios, and competitors in respective areas; which will in turn help in making informed decisions and will support these companies in improvising business strategy.
3. Ripe for M&As

Not only is the liquid biopsy space attracting capital inflow from investors, biopharmas have also started to look at the test developers for acquisition opportunities. GRAIL, a company developing a blood-sampling device that helps reveal cancer at early stages, has raised around $1.6 billion in funding from investors. On the other hand, biopharmaceuticals, like Roche, Bristol-Myers Squib, and Amgen, in the oncology segment have also partnered with liquid biopsy companies to develop companion diagnostic tests and deliver precision medicine.
What do these trends mean to the industry?
For liquid biopsy providers, which are mostly small companies, there is an opportunity to reap the rewards by getting acquired by a big player
For biopharma, the opportunity lies in acquiring a niche capability to tap into an emerging industry
We have already seen one major acquisition with Roche acquiring the remaining shares of Foundation Medicine for $2.4 billion earlier this year, and this might be an indicator of what is to come.
What lies ahead?
For all its benefits, liquid biopsy is still in the development stage. These tests can be used in profiling mutations for patient stratification or better treatment decisions; however, the development of these tests for asymptomatic screening is still in its infancy. We believe that liquid biopsy will be available as a substitute for tissue biopsy over the next 10 years. Given the amount of activity in this market, staying on top of developments with real-time intelligence is the key to making smart decisions.
To find out how The Smart Cube can help Life Sciences businesses stay ahead, please read about our intelligence and analytics solutions or get in touch. We can help you understand and anticipate the forces and changes influencing your critical procurement categories today and beyond.
[1] It developed a dry-bench procedure for conducting molecular analysis of blood samples (tumour DNA found in bloodstream)
With additional inputs from Parag Dange, Assistant Manager, Life Sciences