The electric vehicle market is projected to grow at a CAGR of 32% between now and 2025. That's great news for the environment, but steady increase in demand for the high-capacity batteries that power these vehicles is creating a major challenge for manufacturers – a global shortage of class 1 Nickel. This requires businesses reliant on this metal to develop smart pricing and sourcing strategies.
---
Key:
Class 1 Nickel: Metal with >99.8% nickel content – the high-grade nickel typically used as battery cathode material. Primarily produced from sulphide ore
Class 2 Nickel: Metal with <99.8% nickel content – mostly used in stainless steel applications. Primarily produced from laterite ore
---
Electric vehicles have reached a tipping point. Today, advances in battery technology have helped them become a viable and widely available alternative to traditional fossil fuel-powered vehicles. If you're not already used to seeing them on the road and the showroom floor, that's going to change very soon.
The journey of the electric car already feels like it's been going on for quite some time, but really, what we've seen so far is just the beginning. The EV market is projected to grow at a CAGR of 32% between now and 2025[1], and many of the world's biggest vehicle manufacturers – including Volvo, Ford, General Motors, VW, and more – have committed to developing and rolling out a significant number of new hybrid and all-electric models over the next few years.
Key announcements by company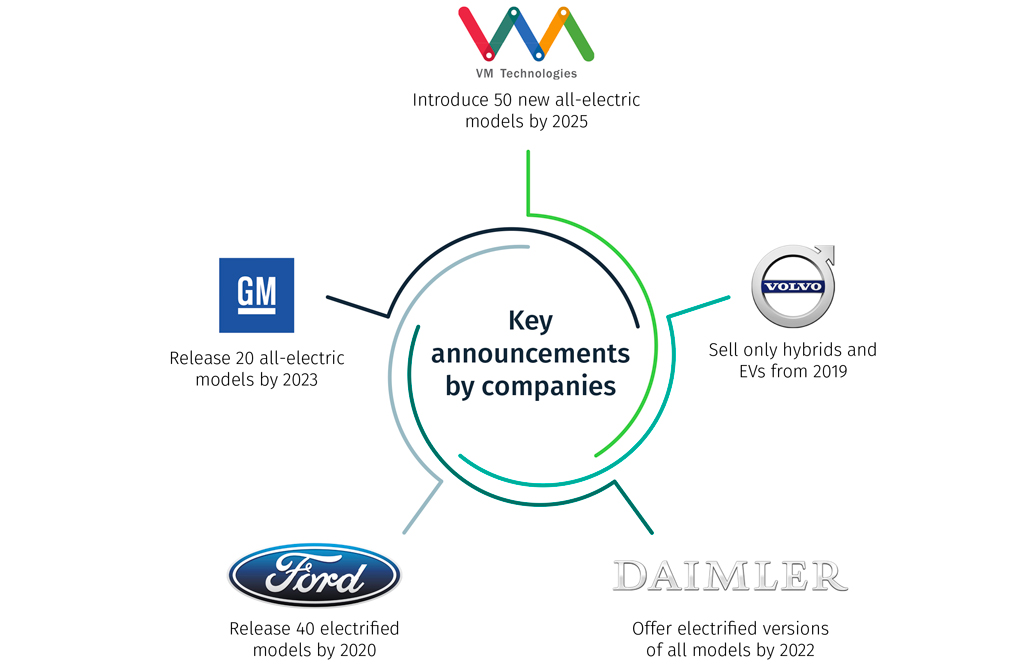 With an increasing number of countries now introducing tighter emissions regulations, and some laying out clear plans for a full transition away from fossil fuel consuming vehicles, electric vehicles are destined to become as commonplace around the world as traditional vehicles are today.

It's great news for the environment and those interested in exploring innovative ways of improving vehicle efficiency, but it's also creating a major challenge for a variety of manufacturers – a forecasted global supply deficit of class 1 nickel.
---
Why nickel? And why now? 
Nickel-rich batteries offer superior energy density, greater vehicle range and a lower metal cost, making them the natural choice for use in electric vehicles. Battery life and drive distance have historically been the biggest barriers to electric vehicles reaching the mainstream, but new nickel-rich chemistries have changed that forever.
In 2017, the battery industry accounted for just 1.5% of total demand for nickel. Off the back of advances in nickel-rich battery technology, that figure is expected to rise to 23% by 2025[2]. With supply levels set to remain stable in the short to medium term[3], that surge in demand is going to cause a significant supply deficit – one predicted to reach as much as -110,000 tonnes by 2025[4].
Compounding the impact of this deficit, various macroeconomic factors are also conspiring to create growing uncertainty in the nickel market. In the Philippines for example – one of the world's largest nickel producing nations – a ban on mining activities that started in 2017 has caused significant problems for importers and exporters alike.
---
In a class of its own 
While nickel supply as a whole is set to hold reasonably steady in the near future, what battery-powered product manufacturers are really interested in is the supply of class 1 nickel. With the electric vehicle revolution driving a huge surge in demand for class 1 nickel, you'd expect to see supply rise to meet it. However, current projections seem to suggest that the exact opposite will happen.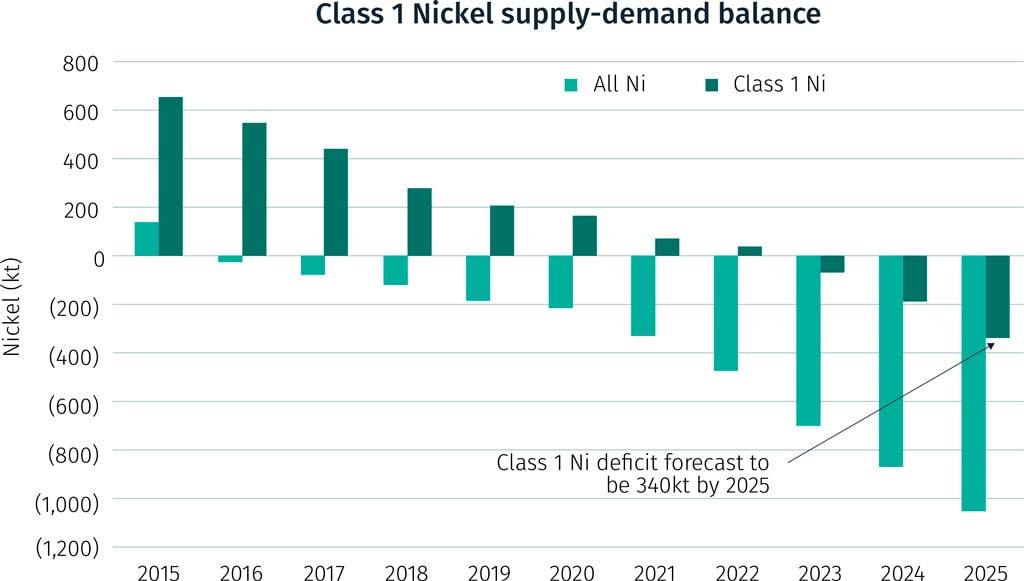 In 2017, sulphide ore – the ore used to create class 1 nickel – represented 33.5% of global nickel mine output. However, this figure is set to fall to 26.4% by 2025[5], further contributing to the emerging supply deficit.
Over the past decade, global demand for stainless steel has risen significantly. This has led to many mining companies shifting their focus to class 2 nickel – the type used for stainless steel applications. This shift is projected to continue, with class 2 nickel exploration rising, despite the rising demand for class 1 nickel.
As a result, pricing structures for class 1 nickel are likely to shift – driving manufacturing costs upwards. We'd expect to see mining companies take note of this and increase class 1 nickel exploration as the resource becomes more valuable, however no clear future increase in supply is currently visible.
---
How manufacturers can mitigate this risk
Together, these forces add up to a market where demand is set to seriously outstrip supply in the coming years, causing serious issues for any manufacturer that depends on nickel as a key commodity. But, while the forces behind these shifts may be out of an individual manufacturer's control, through careful budgetary planning and forecasting, they can ensure their supply chains and operations are ready for this change.
With a large supply deficit up ahead and the relative value of nickel rising, it's time for every manufacturer that relies on nickel to take a critical look at their supply chains and analyse the full level of risk they're exposed to.
That analysis should include:
Detailed analysis of geopolitical risks on the nations nickel is being sourced from
Reliability profiling of individual suppliers, including understanding their future plans for class 1 nickel (sulphide ore) exploration
Examining margins to ensure that profitable production may continue in the face of commodity price volatility
Over the coming years, market intelligence will become a hugely valuable resource for any company that relies on nickel to produce its goods. Only by examining the market regularly will manufacturers be able to understand commodity volatility and dynamics, and build the informed business plans and sourcing strategies required to thrive in a growing supply deficit.
To find out more about how The Smart Cube can support your market intelligence, commodity volatility management and sourcing strategy needs to help your business stay ahead, please read about our intelligence and analytics solutions or get in touch. 
---
[1] The Future of Nickel: A Class Act, McKinsey & Co. (November 2017)
[2] The Future of Nickel: A Class Act, McKinsey & Co. (November 2017)
[3] Wood Mackenzie
[4] Market Balance (Wood Mackenzie); Nickel Prices (LME)
[5] Wood Mackenzie